California Freight
TO or FROM west coast cities and ports...we ship it for LESS!
Handy Freight Brokers is an experienced California freight specialist and can successfully handle all of your west coast freight shipping and logistics management needs.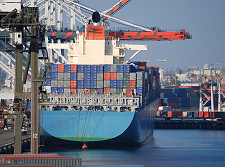 Whether your freight shipment is going TO or FROM the west coast, and wherever its final destination, we can handle it for you. We offer extensive international, domestic and intermodal capabilites. We can pick-up or deliver in any city or port. And, we can handle any load size and any load type. Our motto is "Any Load, Any Size, Anywhere...for LESS!" and we deliver on this commitment every single day. You need a California freight forwarder you can trust to get the job done right. Call Handy Freight Brokers today.
As a California freight specialist we are becoming a major force in the transportation industry. California freight forwarding is in a league of it's own due to the sophisticated insight on our California customers. This makes Handy Freight brokers a stand alone freight brokerage because of our meeting all of our valued customers every needs.
To become a California Freight Specialist we have had to adapt to a vast array of transportation pinpoint accurate logistical battery of tests that set the standard in the California freight industry. Industry standards are year after year becoming more and more complex with the addition of tougher security attitudes toward the transportation industry.
This complicates our California Freight knowledge to the degree of a specialty in the transportation industry. We strive always to offer nothing but the truest and best services available today.
All the major players in the California freight industry are working hard to out do each other in the freight world. We do not work to out do our competition we work to make our valued customers lives a little easier than they would be without us.
Give Handy Freight brokers a chance to prove our selves to you as an individual shipper or a major corporation with one shipment or a large quantity of shipments. We will prove to be a valuable extension to the transportation side of your business. As your California Freight Specialist we will make your job easier.
All quotes are free and welcome. We have no restrictions on size or value of your shipments. All locations and destinations are welcome. Our tried and proven seasoned freight broker professionals are knowledgeable freight brokers are waiting to help you with all the questions you may have.

ABOUT US: Handy Freight Brokers is a commercial and residential freight broker serving the needs of domestic and international shippers from our offices located in Cedar Rapids,Ia. We are a Transportation based enterprise and have built our business on principles of honesty, integrity, fairness and trust in all of our dealings with customers, suppliers, freight handlers and employees. We provide a wide range of logistics management services and our motto is, "Any Load, Anywhere---with Superior Service!" An important element within our overall range of services is our ability to offer discounts to all of our customers, with savings through our strategic alliance with major freight shipping companies having extensive domestic and international logistics capabilities. All Handy Freight Brokers' shipments are transported by professional carriers licensed by the United States Department of Transportation and meet all regulatory standards. We will gladly provide "Fast & Accurate Rate Quotes" for any load and we believe that no load is too big or to handle. Please click on this link for a complete list of our freight movement services.
If you would like to create a text link from your website to the Handy Freight Brokers Home Page we would appreciate it if you would use the following text in your link. Thank you.
Handy Freight Brokers is an experienced domestic and international freight brokerage and freight logistics company serving commercial and residential freight shippers with the motto, "Any Load, Any Size, Anywhere...for LESS!"














Copyright © 2009 Handy Freight Brokers. All Rights Reserved.
3260 Southgate Pl Sw Suite 16, Cedar Rapids, Ia 52404